Hello my fellow Australians,
We are on the second day of eDominations, and the number of tasks regarding the government that needs to be done is huge, and we will need the cooperation of everyone for our nation to become functional.
As such and with the aim to help our citizens to build a sustainable nation that will survive and function in the long run,
I hereby announce that I will be running for the office of Congressmen of Australia in the upcoming elections on the 29th of April 2017.
The plans I have for our country as well as some useful information will be placed below.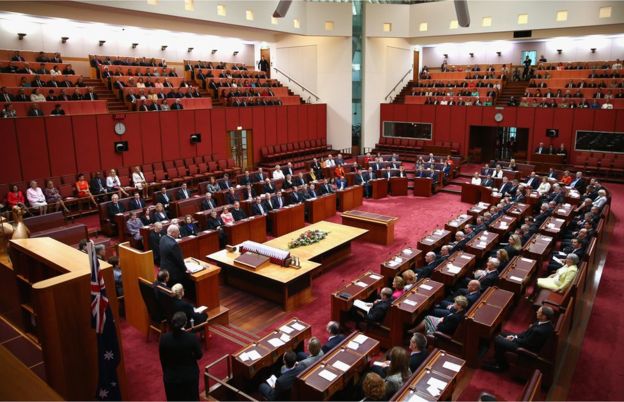 Plans for the 1st Congress of Australia
1. Push for the creation of all infrastructures to make a proper functional community being these forums, discord servers, etc.
- For reference, a National Discord server already exists, and I encourage all of you to join:
AU DISCORD SERVER
- A forum may be created depending on what the administration along the community decide.
2. Push for the creation of a proper legal system. Back in other games, we used to have an actual Constitution and a Congressional Code; I will push for the creation of those, however in a much more simple and organized manner. We had far too many laws that served no purpose but to hinder the work of the AU Institutions, and that needs to be properly balanced.
3. Push for the creation of a provisional government that will guide our nation through this first turbulent times until the first
Presidential elections on the 5th of May.
4. I will push for a sustainable economic policy where our taxes don t hinder our production too much and still serve the purpose of the government to fund its programs.
- Push for the creation of a non-deficit budget for all the national programs we need.
5. Push for an active military with the creation of the following type of units
- Recruiting/Training group for relatively new players
- Central branch for average/2-click players
- Rapid response squad for critical battles
Creation of Arm Australia to supply extra guns to soldiers in critical battles and the creation of a Loan program for training grounds with low interest for the development of our country.
6. Push for the security of our borders through balanced and sustainable diplomatic policies and also through the war to obtain the resources we need to prosper as a nation.
- We will be hearing all nation representatives, and what they have to offer as well we will make our proposals in accordance with the interests of our nation.
- Push for the creation of an Ambassadorial Program that prioritizes great nations that have diplomatic interest for our country and as a means to train new players into grasping how foreign affairs work.
- Create a Department of Immigration that will clear who can immigrate to our country and who cannot enter through a system of referrals and background checks to be done as efficient as possible.
7. Push for the creation of Educational and Interior Programs to train the new players into how the game works and to empower them so
they can develop their capabilities faster.

I know this are a lot of plans and they will require a lot of work.
I want to ask Australian players to be in touch with me to push for a National Meeting to know who is interested in government positions and to elect our officials for the 1st Provisional Government. It is of extreme importance the attendance of all citizens!
Some useful links regarding the political mechanics of eDominations:
Country President; Congress; Ministers and Political Parties - 
View Here
Specific laws and details - 
View Here


IMPORTANT DISCLAIMER
I do not support Sub4Sub. If you want my sub, you will have to earn it through the quality of your newspaper! If you feel like my newspaper deserves a sub due to its quality, you are more than welcome to subscribe and vote!

DO NOT SPAM MY INBOX REQUESTING SUBSCRIPTIONS UNDER THE PENALTY OF BEING MOCKED IN THIS VERY SAME NEWSPAPER OR BEING SUBJECT TO POSSIBLE TROLLING.

You may all return to your regularly scheduled clicking!
Thank you and kind regards,(Credits to our best friend Abraham Lincoln)